Meet the International Community < Alumni >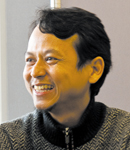 Berry Juliandi (Indonesia)
Biological Sciences
I am a PhD student in the Laboratory of Molecular Neuroscience. I come from Indonesia, a beautiful country of a thousand islands. I think NAIST is a truly fascinating university. When I am conducting research, the laboratory environment constantly challenges me to deepen my knowledge because it has leading-edge research themes, sophisticated research equipment, and remarkable research faculty. Living here is also comfortable, as I've enjoyed a lot of support from NAIST such as scholarships, affordable student dormitories, and free medical consultation since the first time I enrolled as a research student. NAIST also has a truly international flavor. I've met people from all over the world here, especially during the international student excursions where we visit attractive places and learn Japanese culture together. There are also plenty of activities to join, which give me the opportunity to introduce my culture and also learn about various cultures from other students.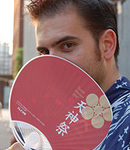 David Esteban Ines (Spain)
Information Science
While studying at NAIST, not only am I earning my Ph.D. , I am also learning about Japanese culture. Thanks to the tranquil and resourceful environment, I am able to achieve my educational goals while enriching my life within a culture very different from my own. My education is enhanced partly by travel to popular cities which are accessible from the university by public transport. Cities such as Nara, Osaka and Kyoto offer a nice complement to my education at NAIST. Although NAIST is a place where you can experience the Japanese way of life, it is also a good chance to be in an international environment, as there are also people from all over the world and many activities for international students .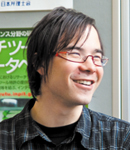 Gregory Blanc (France)
Information Science
NAIST is really making efforts to welcome more students from abroad, and in particular, they have been holding meetings with foreign students in order to enhance communication and support between the NAIST administration and the foreign students. Especially, NAIST is being supportive of dynamic, privately financed students and trying as much as possible to allow students to take part in international research events. As for the research environment, NAIST provides us with the necessary equipment and information to fulfill our research goals. Students share open spaces in which communication and debate are highly encouraged. Especially, professors tend to encourage regular activity reporting in order to best provide their advice and guidance. NAIST also organizes extracurricular activities for foreign students that allow us to discover and learn about Japanese culture, which is rich and varied.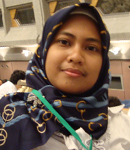 Jalilah Abd Jalil (Malaysia)
Materials Science
I came to continue my master's-level education at NAIST, along with my husband, daughter and son. We live in the university's dormitory, which is located on campus . From our dormitory, it takes 10 minutes to walk to my school, 30 minutes to walk to my daughter's elementary school, and 15 minutes to drive to my son's nursery, which is near the Tomigaoka AEON Mall. This university is a little secluded, but we increased our mobility by buying a car. NAIST, surrounded by nature and located away from the hustle and bustle of the city, is a perfect place to study, conduct research and even raise children.
As a full-time student and a mother of two, my time is very limited. I am grateful to be in a university that has excellent research facilities, 24-hours access to the laboratory and access to an abundance of high-quality journals . By studying here, I am provided with the education al facilities and environment I need to build a foundation for world-class research for the future.
Jane Wamaitha Mwathi (Kenya)
Biological Sciences
My name is Jane, a Kenyan, now in my third year at NAIST. NAIST is a perfect place to be!
NAIST, an institute of high academic excellence, is situated in Ikoma City, Nara Prefecture in Japan. The view of scenery in the distance is quite beautiful. There are a couple of rice fields surroundings the campus and a very green forest that adds to the scenic beauty, which is very appealing to the eye. On campus, there is a convenience store (Lawson), which is a useful place for students to go shopping. At night, students often buy evening snacks or just pick up items necessary for their campus life. A few minutes from the Lawson there are bigger shopping malls that provide a wider range of shopping, all in one area.
For international students, NAIST offers a good environment for studies. With a couple of laboratories with good equipment, students can carry out their research work effectively. The campus environment also offers a chance to learn about cultural diversity, because NAIST aims at expanding its boundaries to reach students from all over the world and recruits them as research assistants, researchers and postdoctoral students through the GCOE program.
The staff at NAIST are very supportive, and this makes campus life and adjustment easy. NAIST is served by a helpful student office, which is supported by other departments to see that all students' needs are met. There is a convenient health clinic inside the campus, a place to pop in anytime and just check your blood pressure or eyesight.
Don't forget to sit back and relax as you enjoy eating various foods like the famous healthy miso soup served at the cafeteria, or enjoy reading articles in the digital library! For gym lovers, there is one right inside Guesthouse Sentan, so take your electronic card key with you at all times-if you're a basketball and tennis fan, take your balls and rackets with you and let's have a game! Cheers!
Marina Atsumi Oikawa (Brazil)
Information Science
I have just finished my Master course in the Graduate School of Information Science, and the enriching and stimulating learning environment I found in NAIST was one of my motivations to proceed to the Doctoral course . I think the dedicated academic staff, the research environment provided and the different educational projects implemented here are very good to instill in the students key research skills. Another thing I think is nice in this university is the possibility they give to all students (Japanese and non-Japanese) to meet the NAIST board members, express their opinions and give suggestions to improve our campus life. I also appreciate the full support given to the international students, which is not restricted to administrative matters, but also includes Japanese language classes on campus and extra activities to learn more about Japanese culture-this is also a way to promote integration among international students from all graduate schools.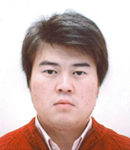 Oyubileg Chingun (Mongolia)
Information Science
As a master's student of software design at NAIST, I am receiving a well-rounded yet specialized education in the software development process and software engineering, complemented by studies in advanced information science.

I think the favorable ratio of staff to students and collaborative intimacy between students and laboratories enhance, undoubtedly, both individual education and the development of close relationships between all staff and students.
My student life at NAIST is quite balanced and satisfactory, and at the same time very engaging, intensive, and goal-oriented-suitable for students like myself who enjoy being occupied with the interesting subjects and problems to solve. Moreover, there is an opportunity each half-year to apply for tuition fee exemption, which can considerably alleviate financial concerns and issues that may distract and hamper most students. Plus, there are various scholarship opportunities, in addition to the teaching assistant employment system for second-year (or above) students. I'm really grateful for the well-organized lab that I'm in, as well as for the friendly environment of NAIST, the fully equipped facilities, and the ample research funding, which provide valuable support for my commitment toward my tertiary education and achieving a career in the software-related profession. This will ultimately enable me to fulfill my goals, and my duty to my family and to society.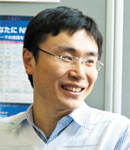 Zhang Youlai (People's Republic of China)
Materials Science
Nara, Japan's capital more than 1300 years ago, not only has great historical and religious significance, it is saturated in Japanese arts and culture. NAIST is located in the north of Nara in a beautiful environment with fresh air. I came from China to pursue a doctoral degree in the Graduate School of Materials Science. There are professors full of multidisciplinary experiences, active thinking students from around the world and advanced research facilities. What is a must to mention is the comprehensive student support system, such as entrance fee exemptions, TA and RA programs and scholarships. These are crucial for my research. I am so pleased to see the sound living facilities, library, student center, fitness center, baseball fields, basketball court, comfortable and reasonable dormitory. Every weekend, you will hear laughter and cheers in different languages on the basketball court. I hope there are more students to join us, to feel this at NAIST.