Fully Understanding Materials, Creating New Devices and Functions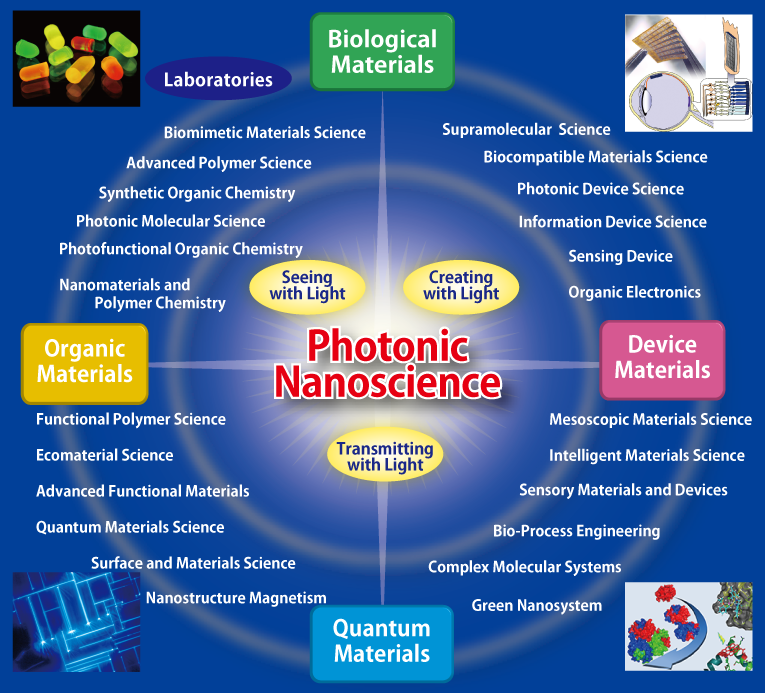 Advanced science and technology produce new functional materials and devices for modern lifestyles. The Graduate School of Materials Science (GSMS) is now strongly pursuing 'photonic nanoscience': by using photons ranging from X-ray to microwave, we elucidate novel structures, unique properties, and new device and material functionality at the electron, atomic, and molecular levels. We also conduct total engineering, which involves understanding the interaction of light with matter, designing new functional materials, and developing new devices.

Our research output contributes to the development of new theory and the discovery of new phenomena, as well as to the future creation of functional materials, devices, innovative instruments and new techniques.
Our students are educated through a highly-structured curriculum to become excellent leaders in research and development fields in the global society.
Leading research accomplishments supported by an excellent environment
The student-to-faculty ratio in GSMS is extremely low. Furthermore, the accomplished and highly active professors in our graduate school are internationally renowned and receive abundant external research funds, such as Grants-in-Aid for Scientific Research. We offer cutting-edge experimental facilities and a spacious environment that allows all students to focus on their academic endeavors. GSMS includes the Research and Education Center for Materials Science, a shared facility on campus that comprehensively supports students' studies and research.
International Program
GSMS established the master's International Program in April 2015. This program stimulates creative and internationally competitive research and development, while also facilitating an understanding of the history, culture and international engagement of Japan. All coursework and research activities and guidance are carried out in English. A wide range of materials science subjects are offered, as well as such interdisciplinary topics as intellectual property and ethics. In addition, students in the International Program may take most of the subjects from within the Standard Program (usually given in Japanese).
Bidirectional industry-academia cooperation program
In addition to fundamental courses in basic research and education in materials science, we also offer industry-academia collaborative courses to develop new materials and new devices. With researchers from external institutions, including industry laboratories, in charge of collaborative laboratories, students have numerous opportunities to study actual practical development.
Wide-ranging student support systems
More than 60% of students in the master's program and all students in the doctoral program are able to reside in dormitories on campus. Scholarships and research funds are also widely available. We also provide financial support to all doctoral students and some master's students to attend overseas international conferences. We have exchange agreements with various institutions throughout the world, providing students valuable opportunities to study abroad.
Research and Education Center for Materials Science
The Center has a number of instruments and cutting-edge facilities operated by diversely skilled technical staff members who expertly support the full characterization of new materials, evaluation of novel properties, and nanofabrications. The Center thoroughly supports education, research and safety management.

In addition to analysis and evaluation of new materials, the Research and Education Center for Materials Science focuses on design and synthesis of new functional materials which may be essential in the areas of modern science and advanced technology, including nanotechnology, biological sciences, information technology, and the environment. This is efficiently achieved through close collaboration between the main and collaborative laboratories at the frontiers of materials science. The Center also has a commission test scheme for non-NAIST researchers who wish to use our analytical facilities.
Courses
Core Laboratories
Specific Research Laboratories
Collaborative Laboratories
Research and Education Center for Materials Science