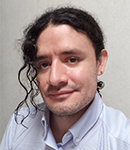 Mario Eduardo Aburto Gutierrez (Mexico)
Information Science
My name is Mario, and I am a PhD student from the Mathematical Informatics Laboratory. I got the MEXT Scholarship by Embassy recommendation, so I had the opportunity to apply to many universities during the application process. I was deeply impressed by the care and attention I got from NAIST staff compared to other universities. The staff provided me with useful information about laboratories that matched my research interests, and helped me coordinate an interview with my Professor. Then, when I arrived to NAIST, from the very first day I have received guidance and support on diverse areas (immigration procedures, career guidance, etc.) that we have to deal with as international students. This is in my opinion one of the strongest points of NAIST: the care they take of their international community. Additionally, NAIST is a highly ranked national university with professors that are experts in their respective fields, with multiple learning opportunities, and possibility of collaboration with other universities. I really recommend you to take the chance to explore what NAIST has to offer, and decide for yourself if NAIST is the right place for you. For me, it definitely is.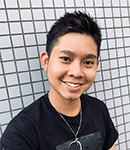 Jonathan Jun-Yong Lim (Malaysia)
Biological Science
I am currently pursuing my PhD study in the Organ Developmental Engineering lab. I first came to Japan in January 2017 for the MEXT pre-screening internship and enrolled in October the same year as master's student.
My journey in NAIST for the past 4 years is not without ups and downs but is definitely a fulfilling one. I am being mentored by dedicated professors, where I can carry out my own research ideas freely yet are very kind to provide support. Communication with all faculty members is also very smooth and they are very open-minded and willing to take in comments and suggestions.
Outside the lab, students in NAIST have many chances to meet international friends through different voluntary activities, both on- and off-campus. I am actively participating in the NAIST International Student Ambassador program and NAIST Badminton Club. Since graduating from master's course in NAIST, I am also eligible and actively communicating with NAIST Alumni to plan for further events. I think these experiences have sharpened my leadership skills.
Personally, I have also deepened my understanding of Japanese language and culture, which has helped me develop better interpersonal skills. Understanding the local language and culture surely helps if we are to live in any foreign country. This has helped me minimize misunderstanding and build more friendships.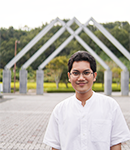 Latiful Akbar (Indonesia)
Materials Science
I am currently taking a doctoral course in the Photonic Device Science Lab, Division of Materials Science, NAIST. Back in my country, Indonesia, I studied Biology. Before coming to Japan, I thought it would be extremely tough as I shifted quite far from my previous educational background, yet the moment I arrived on campus and met professors and other lab members, I knew that I was in the right place. NAIST promotes interdisciplinary programs, allowing students to conduct cutting-edge research activities which include multidisciplinary approaches. In fact, nowadays solving research problem requires various spectrum of science, for example, the research field that I have been working on involves neuroscience, optoelectronics, and bioengineering. As the goal of the institution is to lead at the forefront of science and technology, NAIST constantly nurtures students to sharpen our knowledge and develop our skillset in the lab. I could not be more grateful to see how passionate and dedicated the professors and students in doing their research. They are truly a role model!
Now, I am in the second year of my doctoral journey, and I am enjoying living here. The facilities are available not only for research, but also to support our daily lives including affordable dormitory. NAIST has a peaceful environment, it is well suited to focus on doing research. But whenever we need a break or simply want to enjoy going outside during the weekend, we can easily reach other interesting places, from the beautiful Nara Park with famous bowing deer, to Kyoto, the cultural city of Japan, and the metropolitan area in Osaka. Immersing myself in Japanese culture is fascinating, and it makes learning Japanese language more exciting to as well. For that, NAIST provides Japanese classes from basic to advanced levels. During my studies in NAIST, I also have exciting experiences, not only with Japanese but also international community, and as its motto, NAIST helps us outgrow our limits.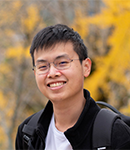 Wassapon Watanakeesuntorn (Thailand)
Information Science
My name is Wassapon Watanakeesuntorn, or my nickname is Boom, from Thailand. I enrolled in a master's course in the Graduate School of Information Science, Nara Institute of Science and Technology (NAIST) in 2017. Currently, I'm taking the doctoral course from 2019.
NAIST is an excellent place for conducting cutting-edge research. NAIST has expert faculties and research facilities for supporting research. At NAIST, many opportunities can come to you. You could have chances to present your research in conferences, collaborate your research with other institutions, or take an internship at a popular company. These could lead you to many opportunities for your research and future career. Additionally, the international student community at NAIST is nice and friendly. You can meet new friends from multiple countries around the world. Moreover, life in Japan is a pleasant experience. You can enjoy sightseeing famous places, tasting local foods, learning the traditional Japanese culture, and other activities that await you to find them. Thus, if you are looking for a great place to continue in graduate education, NAIST is your answer!