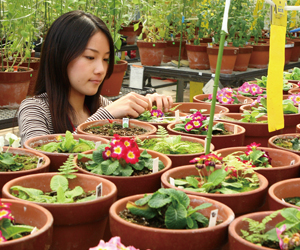 We manage and operate facilities for radioisotope, animal and plant experiments as Institute-wide joint education and research at the Center. The Radioisotope Facility is responsible for the safety of radioisotopes used within the Institute as well as for user training. The Animal Experimentation Facility houses small animals and provides training for users. It also creates various transgenic mice to support research. The Botanical Greenhouses comprise both open and closed greenhouses. This facility houses individual plants that are necessary for research activities, including transgenic plants.
These facilities are an essential asset in advanced biological sciences. Technicians and other expert staff are employed to make sure the Center operates efficiently.
Radioisotope Facility
There are strict regulations on the use of radioisotopes, which are indispensable in analyses of very small amounts of substances in the biological sciences and materials chemistry. At NAIST, we use approved types and amounts of nuclide within the facility to meet national safety requirements.
Animal Experimentation Facility
The Animal Experimentation Facility keeps SPF-level (free of certain microbes) mice, rats, guinea-pigs and rabbits. The Facility has farming rooms, along with operating rooms and injection rooms for creating genetically modified mice. It also preserves their frozen embryos and sperm.
Botanical Greenhouses
The Botanical Greenhouses have enclosed spaces for growing transgenic plants and open spaces for non-transgenic plants that are used as experimental materials. The enclosed spaces are air-conditioned to maintain constant temperature.