Removal of existing barriers between fields to form a flexible educational structure where faculty from related areas may come together to perform education at the forefronts science and technology

Achieve an educational format with freedom to enroll in various courses to respond thoroughly to the needs and interests of students

7 'Education Programs' established to disseminate highly specialized knowledge and training

Introduction of an educational system for basic and specialized knowledge to prepare students for studies in diverse areas, and allow students to reach beyond their specializations by utilizing the knowledge and skills they attained in their undergraduate education

Invitation of researchers and engineers from private industry to implement a Project Based Learning seminar format which includes real world application based on societal needs


In the Graduate School of Science and Technology, seven new education programs will be established to allow for the furthering of specialized research in information, biological and materials sciences; pursuits in the interdisciplinary areas of information, biological and materials sciences; and interdisciplinary challenges in data science merging these areas.


Top-class research organization among Japanese national universities
In the "Evaluation of Achievements Related to the 2nd Medium-term Goals and Plans" for national universities, NAIST was evaluated as exceedingly superior especially concerning research levels. (One of 5 institutions from the 86 national universities.)
The current Graduate Schools of Information Science, Biological sciences and Materials Science will be unified to remove organizational barriers to respond to rapidly-advancing research developments at the forefronts of science and technology.


For prospective students for 2019 (those who will apply during 2018)

Apply for entrance to the research area you are interested in from information, biological and materials sciences.

After entrance, choose a laboratory based on research area & education program.

After laboratory placement, choose 1 program from the 7 education programs.

*Eligible programs depend upon the laboratory to which you enter.

5

Education and research activities

Research activities within specialized education based on 7 education programs with specified outcomes and under a multiple-supervisor structure

For applicants from NAIST's master's course
Promotes doctoral research that further develops research and education of the master's course education programs
For applicants outside of NAIST
Fosters specialized knowledge from the 7 master's course education programs and promote doctoral research based upon individual academic and research backgrounds
Actively promotes interaction with universities and institutions from the US, Europe, and other countries and areas around the world, and students will be able to participate in research activities in a globally-focused environment achieved with various overseas mobility and thoroughly supported international student recruitment
4

Education and research activities


There is a strong demand for education to develop human resources that will undertake interdisciplinary exploration and innovation in quick response to the rapid developments at the ever-evolving forefronts of science and technology. In new courses, students can obtain a wide range of knowledge from the specialization to its interdisciplinary developments and strengthen critical thinking, which will lead to increased career choices for graduates.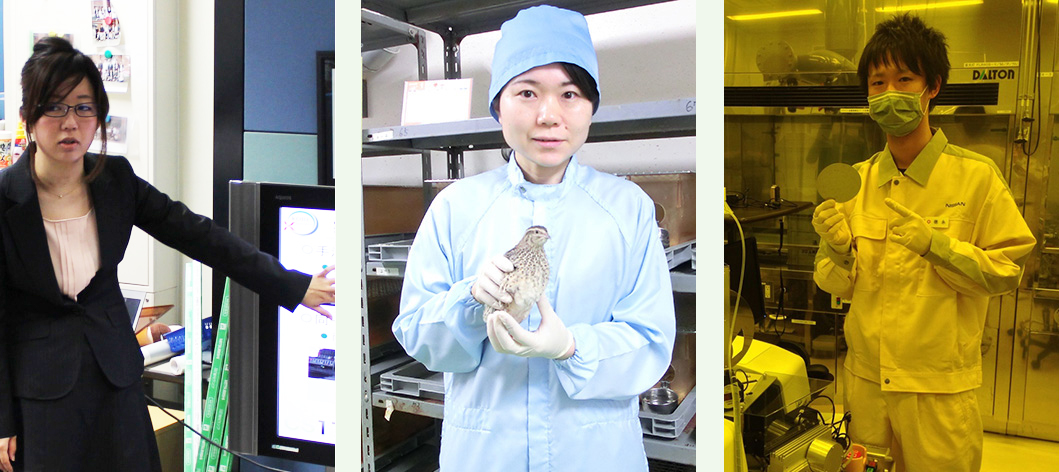 Possible careers: communications, electronics, industrial chemistry, food manufacturing, pharmaceuticals, etc.