2022/10/07
 On October 1st, 2022, Nara Institute of Science and Technology (NAIST) held the 30th Anniversary Commemorative Ceremony and Lecture in the Noh Theater Hall of the 'Iraka' Nara Kasugano International Forum. This event was originally scheduled to be held on October 2, 2021, but was postponed one year due to the spread of the new coronavirus infection. The event was attended by the Minister of Education, Culture, Sports, Science and Technology (representative), local Diet members, Cabinet Office members, neighboring municipality representatives, the Kansai business community, higher education institutions nationwide, and NAIST's honorary professors.
 At the commemorative ceremony, President Kazuhiro Shiozaki expressed his gratitude to the attendees in his address and said, "The President's Vision 2030, formulated to mark our 30th anniversary, aims to further expand the circle of 'co-creation' to the region, throughout society, and the world, so that NAIST will continue to evolve to contribute to future innovation in Japan and around the world.
 Following this, congratulatory speeches were delivered by Keiko Nagaoka (Minister of Education, Culture, Sports, Science and Technology (read by a representative)), Sanae Takaichi (Minister of State for Economic Security and Minister of State for Special Missions of the Cabinet Office), Shinsuke Okuno, Member of the House of Representatives, Shogo Arai (Governor of Nara Prefecture (read by representative)), and Hiroki Matsuo (Director General, Science, Technology and Innovation Promotion Bureau of the Cabinet Office) in which they conveyed their expectations for the further development of NAIST.
 In addition, the Shigeyama Kyogenkai (Kyogen group) performed of 'Kagyu' for the enjoyment of the participants.
 After the ceremony, a commemorative lecture was given by Koei Hashimura of Todaiji Temple on the subject of "The Fascination of the Traditions Surrounding Todaiji Temple." In 2012, NAIST, in cooperation with Todaiji Temple, attempted a project to use virtual reality (VR) to recreate a non-existent cathedral and allow visitors to experience the Todaiji facilities.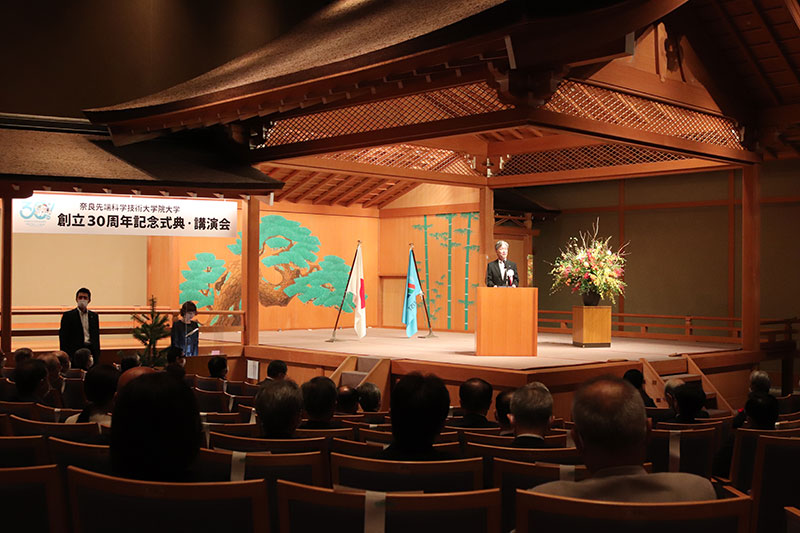 Commemorative Ceremony venue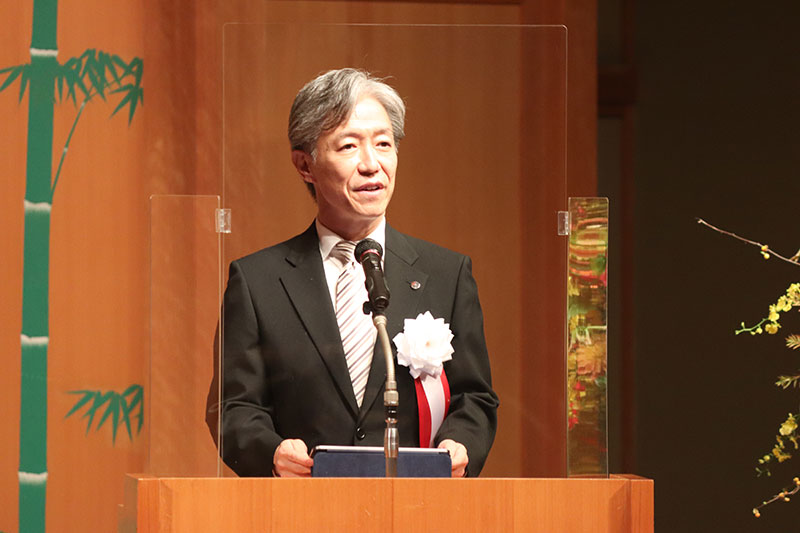 President Kazuhiro Shiozaki delivering his ceremonial address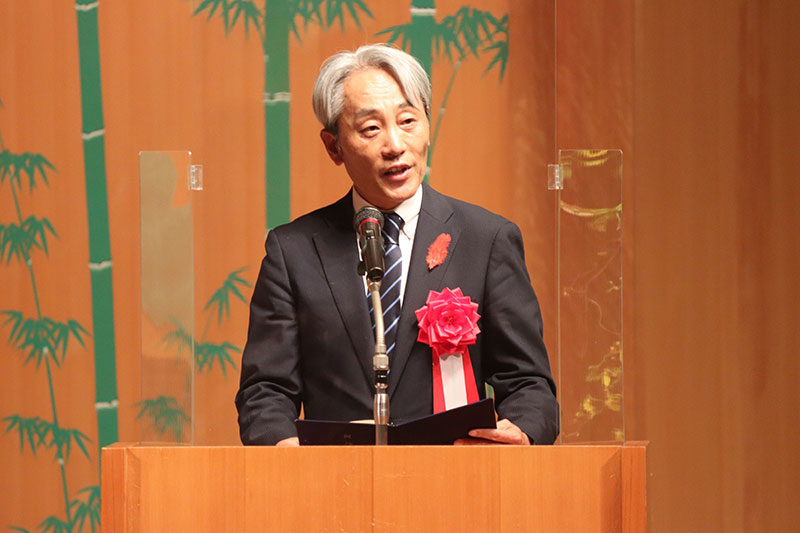 Gakuji Ito (representing Minister Keiko Nagaoka) delivering a congratulatory speech

Sanae Takaichi, Minister of State for Economic Security and Minister of State for Special Missions of the Cabinet Office delivering a congratulatory speech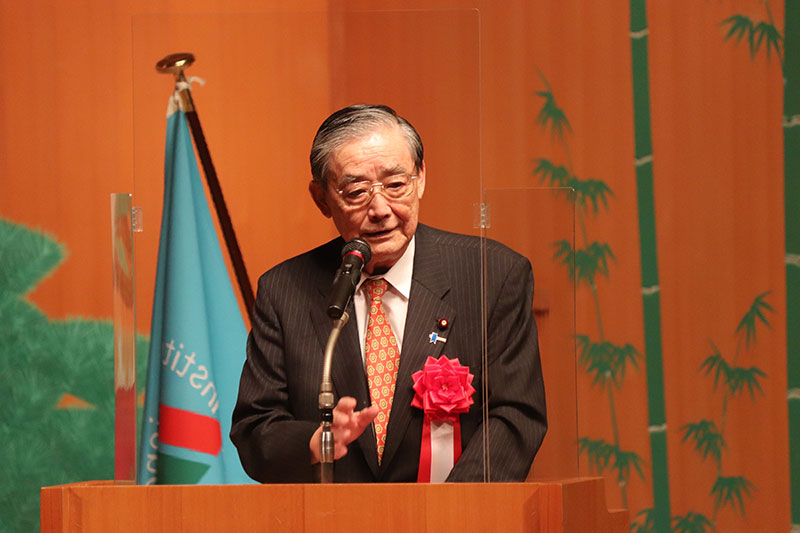 Shinsuke Okuno, a House of Representatives member delivering a congratulatory speech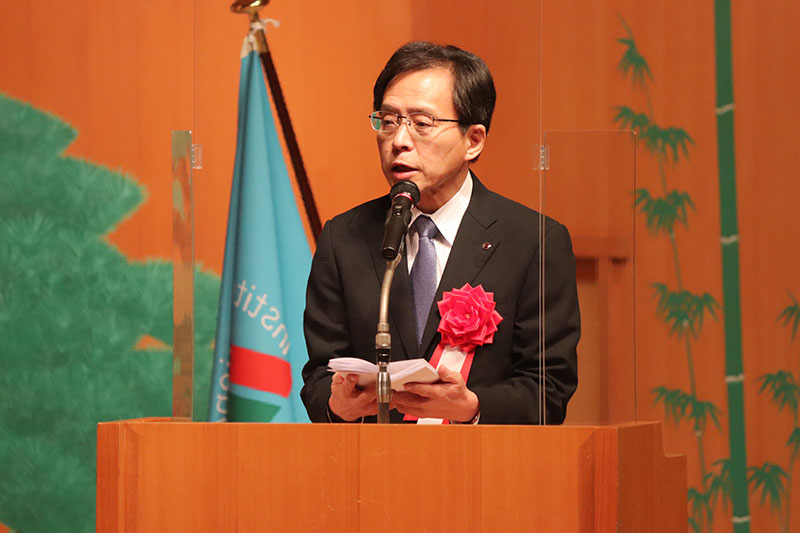 Hiroshi Murai, Deputy Governor of Nara Prefecture delivering a congratulatory speech (on behalf of Governor Shogo Arai)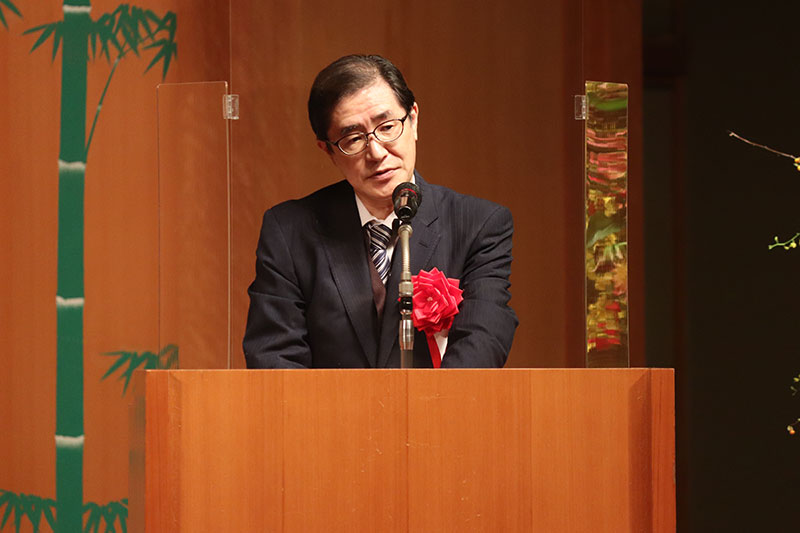 Hiroki Matsuo, Director-General of the Secretariat of Science, Technology and Innovation Policy of the Cabinet Office, delivering a congratulatory speech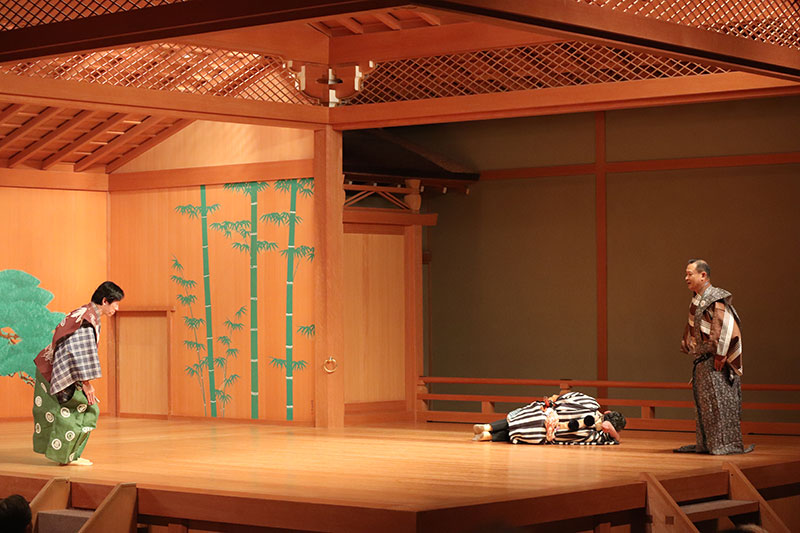 Kyogen 'Kagyu' performed by Shigeyama Kyogenkai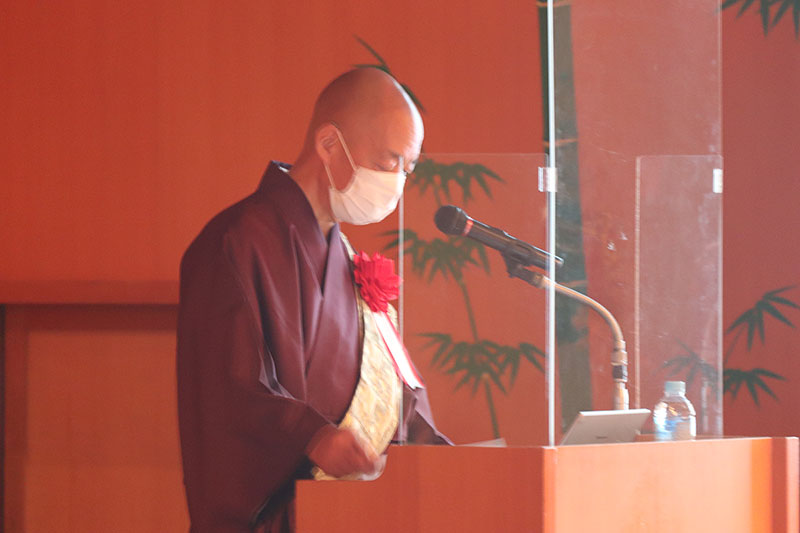 Koei Hashimura of Todaiji Temple giving his commemorative lecture