2021/07/08
 The Center for International Students and Scholars (CISS) held an online session on June 18th (Fri.) for international students to introduce the updated NAIST International Student Ambassador Program and call for international student volunteers.
 The NAIST International Student Ambassador Program began as a volunteer peer counseling program where senior students could offer advice to new students etc., but has been expanded to allow international students to be more active on campus. Registered ambassadors may be active in 3 different areas: student support, student events and PR activities; depending on their preferences, skills and schedules. Possible activities include participating in recruiting events, writing about life at NAIST and in Japan, making YouTube or other videos, planning and participating in student events, new student support and peer counseling.
 Thirteen international students interested in volunteering attended the online session and Mr. Robert King, University Education Administrator, CISS, explained the new program, introducing the roles and activities that NAIST is expecting. He also stressed that the students would not only be able to work within these, but they would also be able to introduce new ideas according to what they feel will meet the needs of NAIST and the faculty, staff and students. Participants expressed ideas about how to promote the new program and how they would like to use this opportunity to give advice to incoming students based on their experiences when they arrived at NAIST.
 Interested participants will attend the NAIST International Student Ambassador Program training session in July and the Ambassador Program will start renewed as of August. Any students who are interested in participating in this program can contact CISS at ciss[at]ad.naist.jp.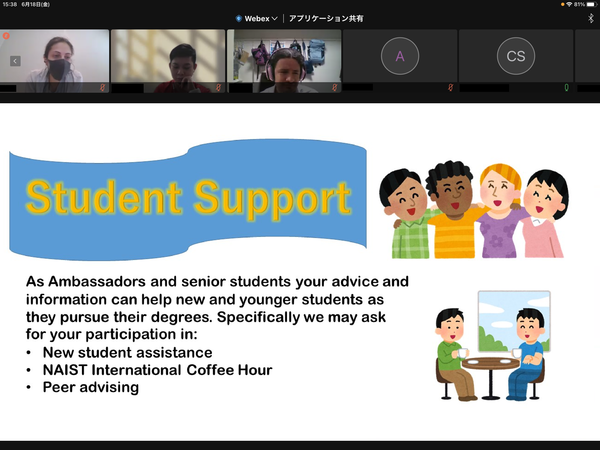 International students attending the volunteer information session