Baby sitter company corporate contract
Subsidies for babysitter usage fees (university)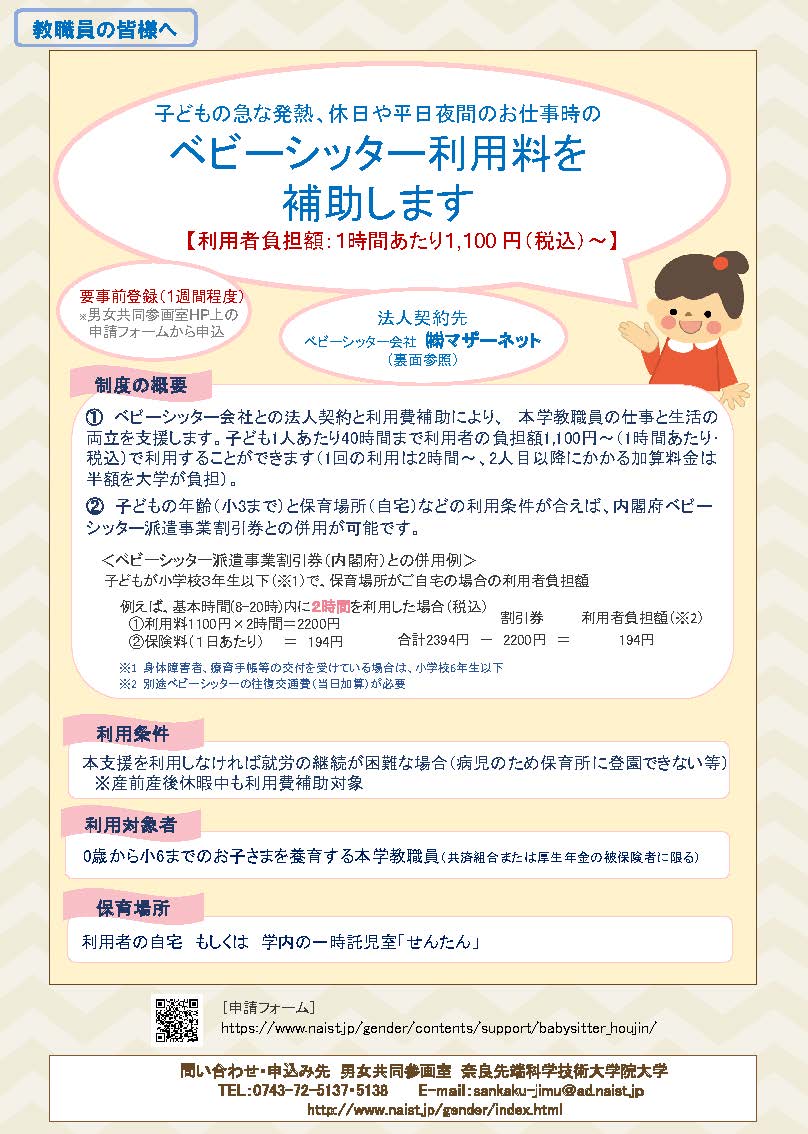 ■System outline
In order to contribute to the improvement of the work-life balance of faculty members of the University, the childcare company aims to reduce the economic burden and simplify procedures when arranging childcare services for sick children during childcare, after-school care, pick-up, etc. It is supported by a corporate contract with the company and subsidized usage fees.
■Eligible users
Faculty and staff working at the university (limited to mutual aid unions or employees who are insured by employee pension)

■Eligible children
From 0 years old until 6th grade

■User Contract
 Mothernet
■Terms of use
If it is difficult to continue working without using this service (such as being unable to attend nursery school due to a sick child)
* Eligible for subsidizing expenses during pre- and post-natal leave (2019.10 ~)

■Nurseries
User's home or the temporary nursery "Sentan"(Temporary nursery "Sentan" is open from 7:00 to 22:00)

■Usage cost subsidies
Since there is a corporate contract with a childcare company, there is no individual enrollment fee or annual membership fee.
・ The babysitter fee and insurance fee for each use, and babysitter transportation expenses are borne by the user, Each child can receive a subsidy for up to 40 hours per year.
  * If it exceeds 40 hours, a regular fee will be charged.
・When the child is under 3rd grade in elementary school and the childcare location is at home Subsidy for childcare fees usage (Cabinet Office) can be used with (Up to 2,200 yen per day, 24 per month, 280 per year).
  When used together, the actual burden for 2 hours use is [insurance fee about 200 yen (per day) + only sitter round-trip transportation expenses].
[Subsidized usage fees and user fees by time of day (per hour, including tax)]
Regular fees
(1 Child)
Usage cost subsidy
University's share of expenses
User's share of expenses
Standard Time (8:00-20:00)
2,622 yen
1,522 yen
1,100 yen
*A one time use is 2 hours or more (after that, it can be used in 15-minute units)
* The university pays half the extra charge for the second and subsequent children
■ How to use
・Please apply from the Application form in advance up to two weeks before the scheduled use date.
・See "Information for use" for details.