The Guesthouse Sentan is a facility for faculty/staff and students as well as visiting researchers. Accommodation fees are reasonable. The facility has an assembly hall and an assembly room for guest researchers where conversation between researchers is encouraged in a comfortable atmosphere.
Guidance of Guesthouse Sentan (408KB)
Accomodation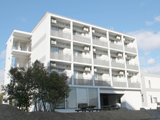 Guest rooms
Single rooms: 27, Twin rooms: 2
Room Equipments
TV, DVD Player, Refrigerator , Microwave, Mini kitchen
Internet Access
Free Wi-Fi
Common Equipments
Automatic washing and drying machines
Amenities
Face towel, Bath towel, Hairdryer, Two-in-one shampoo, Body soap (For other articles available, please see the list of Rental Articles.)
Who can stay

Researchers and others who visit NAIST for research and education
NAIST faculty and students
Those with the President's consent

Maximum stay
Up to 3 months
Check- in / Check-out
Check in: 15:00-
Check out: 11:00
Price
Single room: 3,000 yen/per night, 60,000 yen/21-30 night
Twin room : 6,000 yen/per night, 120,000 yen/21-30 night
Assembly Hall, Assembly Room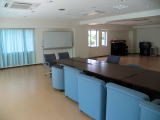 Who can use

Those who stay at the Sentan
NAIST faculty and students
Those with the President's consent

Available time
From 9:00 to 21:00 (except from December 28th to January 4th)
Internet Access
Free Wi-Fi
Reservations
Welfare Section of Personnel Division
E-mail: fukuri[at]ad.naist.jp
Office Holidays
Sat., Sun., national holidays, and the year-end holidays (Dec. 29th - Jan. 3rd)
* When making a reservation, please give us the following information. (Visitor/user Name, Organization, Contact address, Date of stay/use)
* Please note that Guesthouse Sentan does not have any parking. Please use the nearby Takayama Science town Parking Lot (300 yen per day).