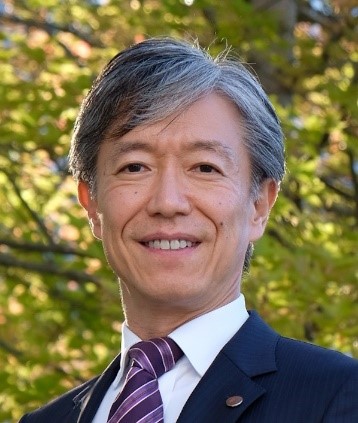 Kazuhiro SHIOZAKI
President
Cultivating Research Cultivates Young Minds
Nara Institute of Science and Technology (NAIST) was founded in 1991 as a new type of national postgraduate university specialized in information science, biological science, materials science. Focusing on those three areas of expertise essential for modern society as well as on their interdisciplinary fields, NAIST has attracted domestic and international researchers to pursue world-class research, which has been highly evaluated. For example, NAIST was among the 22 prestigious institutions selected nationwide for the "Program for Promoting the Enhancement of Research Universities" initiated in 2013 by the Ministry of Education, Culture, Sports, Science and Technology (MEXT), further strengthening its research.
One of the purposes of research in science and technology is to make discoveries and create innovations that lead to solutions for more comfortable and pleasant living environments in our society. For example, many researchers are at the forefront of the ongoing fight against the new coronavirus. On the other hand, the history of scientific research represents humankind's cultural activity that has been expanding our intellectual horizons with new knowledge building up.
NAIST offers extensive research training in cutting-edge science and technology. While conducting research projects, our students can not only gain the latest insights into relevant fields, but also acquire the multifaceted abilities and skills required for scientific discovery and technological development. Our graduate programs attract students from around the globe and currently, one in four of the NAIST students are international from 34 countries and regions; science and technology know no national boundaries. NAIST has been selected for funding as part of the "Top Global University Project" by the MEXT. We are proud of our international campus environment where diverse students perform research together by sharing and discussing their ideas and results, all while improving their communication skills in English.
NAIST is celebrating its 30th anniversary this year. Many of its research achievements during the last three decades have already been translated into practical applications for our daily life or can be found in textbooks. NAIST has conferred 8,671 master's degrees and 1,720 doctoral degrees on our graduates, who are now active researchers/engineers in various fields in Japan and overseas. In addition, a number of professors who are making significant contributions to research and education at major universities nationwide used to study at NAIST as young researchers.
Upon the foundation of our achievements for the last three decades, we are initiating a new phase of NAIST, toward which we made a major reform in 2018 by integrating all three graduate schools at NAIST into the Graduate School of Science and Technology. This new university organization serves as a platform that brings together different disciplines for innovation and educations to tackle global social challenges, such as SGDs. Furthermore, immediately after filling the office of the president, I announced the newly formulated President's Vision, "NAIST: Co-creating the Future". Through our mission of pursuing the cutting-edge research in science and technology to develop the next generation of leaders, we will continue moving forward to contribute to the future.